***
Picture not being aligned with the system picture, due to sensitive nature of information which may against NDA
User Research: eFOOOD surplus meal system

Duration Two Months
Ownership Chao-LIng Chyou, Nai-Yi, Sean Lin
Categories UX Research
Contribution UX Research
eFOOOD Food surplus system meal is a system which is the system interacted with donators who donatoed the surplus meal, restaurant who had supplied surplus meal, users who lived under wage and social workers.
---
Evaluate and Strategic Research
Main Goals
To understand donator's perceptions and motivations while using system
To evaluate whether system flow aligns with restaurant current behavior and expectations
To evaluate whether system flow and feature aligned with people who lived in the under wage's current behaviours and expectations
Restaurant
---
User Interviews sessions
3 participants
30 min sessions
Recruited participants
Supplied suplus meal at least six months
Had used restaruant operation system
Taipei Area
Donators
---
Survey Design
10 questions for understand donator's motivations, behaviours and expectations
Social Workers (alternative )
---
User Interview
3 participants (at least 1)
30 mins sessions
Recruitment
Who had experience work alongside the people who lived under standard wage
Restaurant
Planned
Recruiting
Conducting
Donators
Planned
Conducting
Analysis
Reporting
Re-ensure the needs with stakeholders
While the team had done research previously one year ago, but during the pandemic, the need had been changed since then.
We would like to ensure the needs in different stakeholders profoundly in their behaviours and expectations.


Create the value of three-way sustainability systems
In the initial briefing, the team had created the initial flow of systems previously, but they would like to develop flow and features with three-way systems,
creating the real value for restaurants, donators and people who really need surplus meal, aligned with users in realitiy, building up sustainability recycling systems.
I moderated sessions and analyzed findings to learn:
Restaurant
Value and Use Case
User thoughts that the system they would like to use
Need some instructions in restaurant system
User prefer using but need more specific information on how restaurant system works out especially interfaces may align with user perferences
System need clear functionalities and easy operation system, with big fonts in interfaces and bright colours
Need to settle criteria with limited amount of meals
People can pick up the meal with more than one, but restaurant wondering it need to be but calculated to ensure the meal can be delivered who really need, like maximum with two meals one time
Donators
Value and Use Case
User who would likely to donate are aged between 20-45
About 66% of user thoughtsthe system they would like to based on concept of sustainability

User cared about the transprency about money
90% of user care about the how money used and where money goes on
72% of users also would like to recieve notification by email an systems in every three months or half a year
User not really understand the concept of surplus meal
Only 50% of user understand surplus meal system
User understand the surplus meal mostly from media and restaurant surrounded by
Surplus meal may possibly been delivered to people who may not need
65% of user wondered about the meal can't really helped to the people who really need
Donate motivations and factors based on reputations of restaurant
Most user will donate the resaurant surrounded by or have reputation recognised from NPO/NGOs or media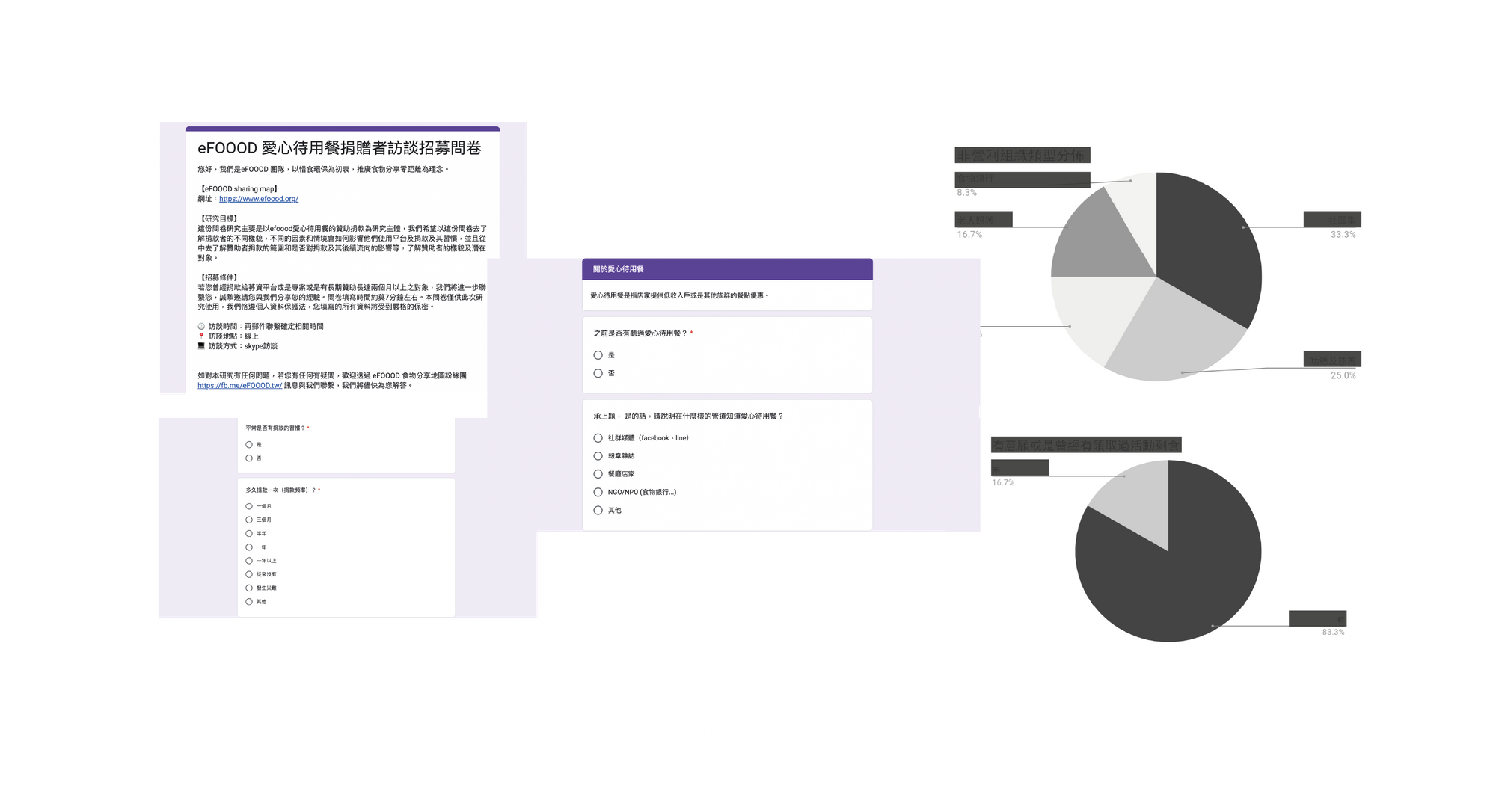 Overall, with the deadline of shifting the flow of systems, scheduleing to meet with lead stakeholders to go over the initial findings.
---
My two main goals at this point were to:
Focus in on what the most actionable insights for the team were
Decide how to best frame findings
---
By meeting with key stakeholders early on:
Confirmed team's priorities: shifted user flow
Discussed features requested: functions urgently needed from users
Framed the findings into strategic decisions
Collaborating with the team to disucss about the findings in frequent meetings, to ensure the insights which is highlighted and make best strategic decisions.
Transformed the findings into insights
As a result of the study and our collaboration, the team made launching for donating. Here are some of functions and flows we had built up or adjusted with UX designer and developers.
Add features and flow for Donator system
Add features for donate the restaurant with meals
Add the restaurant that can be donated within 3 kms
Add the options of donation in 100, 200 and 500 dollars or randomly
Adjusted the flow align with restaurant
Built up the flow which is closer to POS system, including meals recording system pages
Adjusted the UI in bigger fonts and bright colours in restaurant system
(Thumbnail: Features with donate launching)


*** Picture not being aligned with the system picture, due to sensitive nature of information which may against NDA